Barista Education for Korean Adoptees(2nd)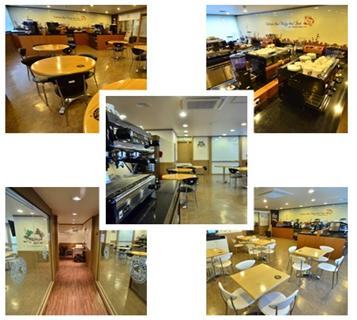 Purpose and Background
Firstly, a barista is a person, usually a coffeehouse employee, who prepares and serves espresso-based coffee drinks. In Korea, the coffee business is blooming and there are a lot of coffee shops. So, these companies need workers in order to effectively manage their coffee branches.
For this reason, we offer this education program to you. This program starts off with the understanding of coffee, shows you diverse ways to extract espresso from coffee beans and gives you an opportunity to make coffee. You can enjoy drinking and making coffee with other people and receive information regarding the career path of a barista through this program. This program will give you the opportunity to maintain economic stability in the future for yourself by increasing the ability to get an engage in a supportive community.
※ The syllabus (details of the curriculum) of the program can be found at the end.
※ IMPORTANT ※
The completion of this program DOES NOT make you a certified barista. You still need to take the barista exam. This program however, may prepare you for the barista exam.
If you want to take the barista exam, please continue reading.
You can register for the exam at "Tom N Toms Coffee Academy". If you pass the exam then you will become a coffee master level 2. There are two parts to the exam. The first part is a writing exam and the second part is a performance exam. You first need to pass the writing exam in order to take the performance exam. You should pay for the registration fee.
Registration fee : Writing Exam (30,000KWN), Performance Exam(50,000KWN)
Writing Exam Textbook(8,000KWN)
Dates for the Barista Program
Every Tuesday and Thursday at 7:00 P.M to 9:30 P.M starting September 16, 2014 ~ October 14, 2014
※ IMPORTANT ※
1. Education is provided only in a single session.
2. Each Class must have a minimum of 10 people.
How to Apply
Fill out an application through http://www.inkas.org/en/myservices/application/50/ If you are not an InKAS member, please sign up first and pay the annual membership fee.
Application Deadline: July 10, 2014 ~ August 17, 2014
Cost of the Program: 100,000 KWN
Location
Seoul Special City Gangnam gu Shinsa dong 570-6 Bedro Building 5F Tom N Toms Academy
☎ 02-515-2345 / Fax: 02-515-2945 / Website: www.tomsacademy.com
Reference
Syllabus of the program
Week

Main Topics

Details

1

Orientation,

understanding of coffee

Introduction of the program and Tom N Toms Academy, basic theories of coffee

2

Espresso Ⅰ

The definition of espresso and how to extract it, How to use an espresso machine

3

Espresso Ⅱ

Practice extracting espresso

and correcting posture,

Creating more difficult drinks by using espresso,

Making espresso Con Panna and Americano

4

Espresso Ⅲ & Milk steam

Practice extracting espresso,

Understanding steam and how it was made

5

Milk Steam Ⅰ

Practice making velvet steam,

Dry & Wet cappuccino and

Latte cappuccino

6

Milk Steam Ⅱ

Practice pouring wet cappuccino,

Making design cappuccino

7

Making all the coffee from the coffee menu

Creating other drinks using syrup and powder,

Practice making Caramel macchiato

and Caffe mocha

8

Final Review and completion ceremony

Overview of barista exam details,

Pre-test for barista exam,

Completion Ceremony