Our Services Mother-land visit Summer camp
---
Every summer, InKAS has a one or two week-long summer camp for adoptees currently living outside of Korea to experience and learn about Korean culture with fellow adoptees and local volunteers. This program is coordinated to help adoptees better understand the Korean customs, cuisine, traditional dress and housing through hands-on participation. South Korean college students volunteer in the InKAS Summer Camp and participate in some of the classes alongside the adoptees. Their involvement in the InKAS Summer Camp offers a more comfortable atmosphere during the event.
InKAS can assist summer camp participants in visiting their adoption agencies as well as arranging birth family reunions. InKAS can provide interpretation/translation services upon request. 
- When : 1 or 2 weeks, around the months of May to August
              (An actual date will be updated on our homepage's notice board later)
- Application due date : Late winter - the application period will be announced on our notice board on the home page.  Please keep an eye out for notices. (First come, First served)
- Selections :
InKAS will select around 40 candidates from the application pool. Applicants must be 18 years of age or older, and will be selected on a first come, first serve basis. Don't miss this awesome opportunity! Apply soon!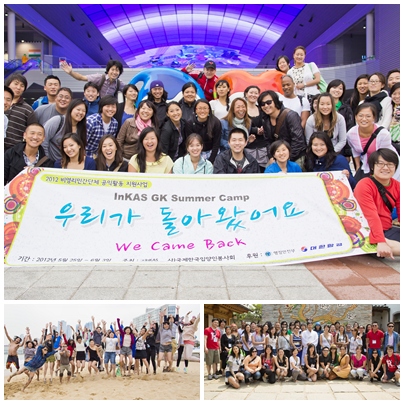 2014 summer camp
2013 Summer camp