1. Bulgogi (불고기)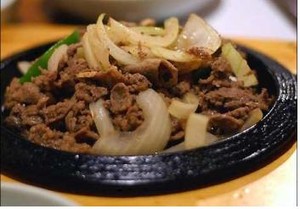 Korea's traditional food Bulgogi is more popular between foreigners. Tourists that don't like Korea's spicy food raise their thumbs when they taste Bulgogi.
Bulgogi is a beef marinated in a mixture of soy sauce, sesame oil, sesame seeds, garlic, and green onions. When Koreans eat Bulgogi, they usually wrap it with lettuce and sesame leaves. You can also cook it with other spicy sauce to have more taste.
2. Bibimbap (비빔밥)
Bibimbap is a dish served with cooked rice with vegetables, beef, egg and red pepper paste. and you need to mix it all together before you eat it. It's such a healthy food full of nutritions.
3. Samgyetang (삼계탕)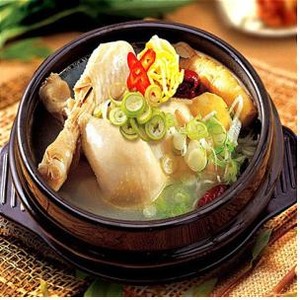 It is a ginseng chicken soup, most common and famous health food to refresh you, keep you cool, and restore your energy as you endure the hottest months of summer in Korea. The dishes are filled with nutritive ingredients like ginseng, garlic, jujube, and sweet rice. It will bring your energy back.
4. Topokki (떡볶이)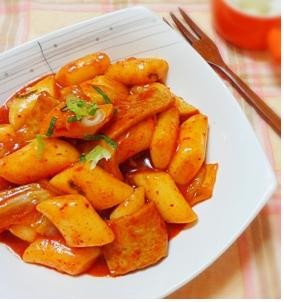 Topokki is made by stir-frying rice cakes with vegetables and fish cakes in gochujag(red pepper paste) sauce. It is one of the most popular dishes in Korea especially among youngsters. you can find it easily on the road and eat it at cheap price. It's very chewy and can be a bit spicy.
5. Patbingsu (팥빙수)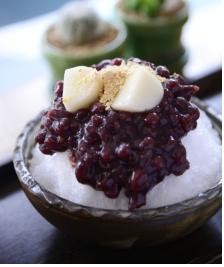 The dessert made of red beans and crushed ice definitely is the favorite choice in summer. Soft shaved ice soaks in a sweet milk drizzle. Heaps of red beans are piled on and topped with several pieces of rice cake. it's main ingredient is not the traditional 'pat'(red beans) but green tea, coffee, strawberries, ice cream or any fruit. It is served in not only restaurants and cafes but also in fast-food shops.