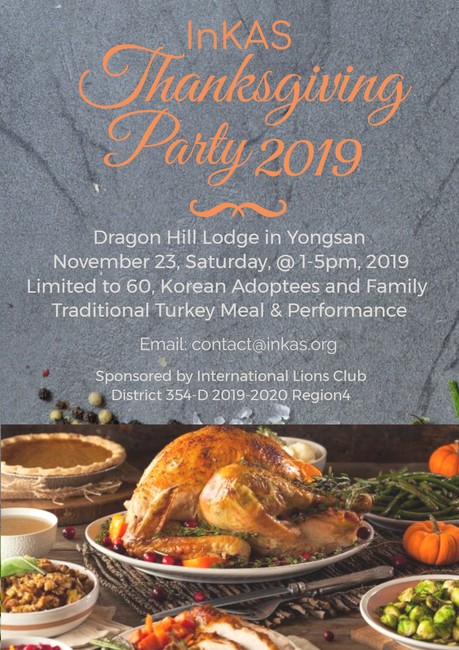 "InKAS Thanksgiving Party 2019."
This feast is invitational for Korean adoptees and their family members, so there will be no participation fee.
Please come and enjoy this bountiful time.
Event Time: 13:00~17:00, Saturday, November 23, 2019
Event Address: Dragon Hill Lodge, ga, 7, Yongsandong 4(sa)-ga, Yongsan-gu, Seoul
드래곤 힐 랏지, ga, 7, 용산동4가 용산구 서울특별시
Application: https://forms.gle/CS6uXDPMS8vtSPYD9
Deadline: November 3, 2019
* Dragon Hill Lodge is a U.S. Department of Defense in Seoul. It is a part of the Yongsan Garrison military community so all members will enter together. Certain meeting point and time will be informed to participants later.
* Homepage: https://www.dragonhilllodge.com
Participation Fee: None (for free)
Traditional Turkey Meal & Performance
*** Feast only limited to 60, Korean Adoptees and their Family Members
Contact us at (02)3148-0258 or contact@inkas.org