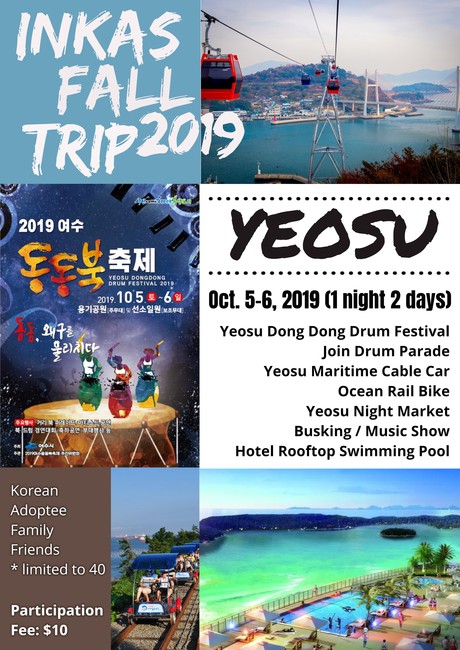 InKAS invites you to the 'InKAS Fall Trip 2019'. 
The purpose of this trip is to enjoy Korean Autumn altogether as a weekend get-away. We will participate in 'Yeosu Dong Dong Drum Festival 2019' and join a parade also. Let's seize the most beautiful moment in Korea.


* Registration:
- Trip Duration: October 5th – October 6th, 2019
- Place: Yeosu(여수)
- Deadline: September 17th, 2019
- Cost: $10 
- Family and friends are welcome to join.
- Application Link: https://forms.gle/GFXiisPF5KwMgoum6 

* Only limited to 40, Korean Adoptees and their Family/friend Members
* Yeosu Dong Dong Drum Festival (2018 version):https://youtu.be/ahN9caowx0o 
* Ocean Hill Hotel: https://oceanhillhotel.com/
* About Yeosu: https://wikitravel.org/en/Yeosu


For any questions related to this event, please email to contact@inkas.org.