Hagwon (Korean: 학원) (also hagweon or hakwon) is the Korean-language word for a for-profit private institute, academy or cram school prevalent in South Korea. Although most widely known for their role as "cram schools", where children can study to improve scores, hagwons actually perform several educational functions: they provide supplementary education that many children need just to keep up with the regular school curriculum, remedial education for the children who fall behind in their work, training in areas not covered in schools, and preparation for students striving to improve test scores and preparing for the high school and university entrance examinations (the university entrance exam is also called suneung). Many other children, particularly younger children, attend nonacademic hagwon for piano lessons, art instruction, swimming, and taekwondo. Most of the young children have been to a hagwon for piano or art lessons at least once. Hagwon also play a social role, and many children, especially the younger ones, say they like going to hagwon because they are able to make new friends; many children ask to be sent because their friends attend. There are many hagwons for adults too, such as flower arrangement and driving-license hagwons.The term is also sometimes used to describe similar institutions operated by Korean Americans in the United States.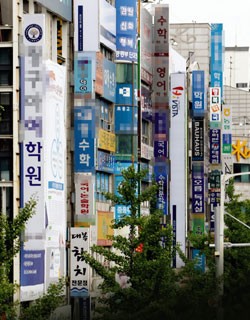 Children of all ages often attend hagwons, even those in the pre-school age bracket. It is not uncommon for students to be enrolled in several hagwon of different subject areas at once in addition to their normal school attendance. Hagwons often specialize in subjects like mathematics, foreign languages, science, arts, or music. Many hagwons also have adults as students, particularly those dedicated to teaching the English language.
While some see hagwons as filling a need not being adequately met by the public school system, others see them as creating an unequal footing between the poor and rich in Korea.
In 2008 it was reported that there were over 70,000 hagwons in South Korea with 47 percent of them focused on high school enrollment.
Impact on real estate
A higher than average concentration of hagwons in the Gangnam-gu area, specifically Daechi-dong, has been cited as the primary reason for an increase in real estate costs in the area. In the 1970s the Seoul government made some top schools relocate to the area; however, the schools there have become associated with entry into elite high schools and then elite universities. Many residents feel their children need to be associated with these schools in order to reach the upper levels of business and success. As more parents try to move to the area to allow their children to attend these schools,the prices of real estate in the area have risen to 300 percent of similar areas in Seoul. In 2003 the government had planned to develop a hagwon center in Pangyo to relieve some of the pressure on Gangnam, yet after heavy criticism for only shifting the problem around and not solving it, the government canceled the plan only a couple weeks later.