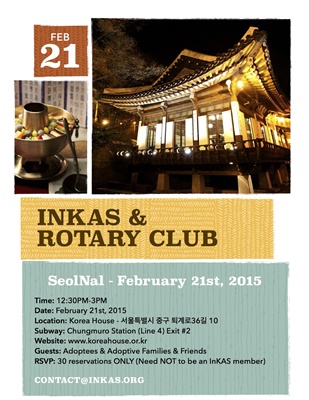 Dear All InKAS Members,
Thank you everyone for showing lots of interest and support for our New Year Celebration on February 18th. You are always welcomed to our future events if unable to attend this time. All our events are designed to introduce a new angle of understanding Korean culture as well as an opportunity for adoptees to connect with the mainstream Korean community.
Unlike our previous years, InKAS will have two different Korean New Year celebrations (Seol-Nal) in the same week.
In collaboration with the "Korea Rotary Club" we prepared lunch and other traditional events at the "Korean House Restaurant" located close to Chungmuro Station. This restaurant is known for its Hanok estates, which adds to the classic Korean vibe of culture and traditional depth.
A true Seol-Nal holiday significance is found in the way family elders bless to younger generations. To introduce these values of blessing to the adoptees and adoptive families living in Korea throughhospitality, InKAS and the Rotary Club have prepared an excellent traditional meal.
*** You may attend both the Guesthouse celebration on the 18th and also attend the "Korea House" celebration on the 21st
Please email us by Monday 23rd (Morning) if you are interested on attending! And visit the Korea House website to see what programs they offer!
Time: 12:30PM-3PM
Date: February 21st, 2015
Location: Korea House - 서울특별시 중구 퇴계로36길 10
Subway: Chungmuro Station (Line 4) Exit #3
Website: http://www.koreahouse.or.kr/main/?load_popup=1
Guests: Adoptees & Adoptive Families & Friends (those with no experience in Korean Culture)
RSVP: 30 reservations ONLY (Need NOT to be an InKAS member)
If  you would like to attend, please reply to this email to RSVP before February 17th.