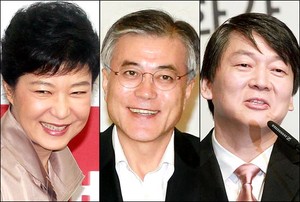 The 18th Republic of Korea presidential election will be held in South Korea on 19 December 2012. It will be the sixth presidential election since democratization and the establishment of the Sixth Republic, and will be held under a first-past-the-post system, meaning that there will be a single round of voting and the candidate receiving the highest number of votes will be elected. Under the South Korean constitution, presidents are restricted to a single five-year term in office, and the term of incumbent president Lee Myung-bak will end in February 2013. Registration for candidacy began on 23 April 2012.
Lee Myung-bak was elected President of South Korea in 2007 as the nominee of the conservative Grand National Party after a closely contested primary in which he narrowly defeated Park Geun-hye, and assumed office in February 2008. His victory brought to a close ten years of liberal administration under Kim Dae-jung and Roh Moo-hyun. The Lee Myung-bak government pursued the reduction of government bureaucracy and a laissez-faire economic policy, and came under criticism from the left for political scandals and controversial policies such as the Jeju-do Naval Base and its support of the South Korea-United States Free Trade Agreement, although both were initiated under the previous administration. Despite the fact that he was elected in a landslide victory and received initial approval ratings of 70%, Lee's ratings had declined to below 30% by 2012.
At the end of 2011, Park Geun-hye assumed control of the Grand National Party, which was subsequently renamed the Saenuri or New Frontier Party in February 2012. She distanced herself from Lee and led the party towards the center. In legislative elections in April 2012, Park guided the party to an upset victory, returning its majority in the National Assembly.  This contributed to an increase in her poll ratings and consolidated her position as frontrunner for the Saenuri nomination.
Opposition to Saenuri is divided primarily between the Democratic United Party and independent supporters of Ahn Cheol-soo, who has emerged as a leading potential candidate despite his ostensible silence on the race. In the DUP, focus initially lay on Sohn Hak-kyu as a potential nominee, but by late 2011 Moon Jae-in, a confidant of former president Roh, had overtaken Sohn in polls. Although the DUP invited Ahn to join the party, only 2.3% of respondents to a poll on 21 April thought that Ahn was best suited to be DUP nominee. The DUP itself has been troubled by the split between pro-Roh members such as Moon Jae-in and the "Honam wing" of former president Kim Dae-jung, represented by Chung Dong-young.
Ann Cheol Soo
Ahn Cheol-soo is a South Korean business person, politician, and former professor. He founded AhnLab, Inc. an antivirus software company, in 1995. Until September 2012, Ahn was the dean of the Graduate School of Convergence Science and Technology at Seoul National University and also serves as chairman of the board of AhnLab and its Chief Learning Officer, and chairman of the board of Noritown Studio, originally an internal corporate venture of AhnLab, now operating as a separate entity. Ahn was born on February 26, 1962 in Busan, South Korea. He earned his MD, MS and PhD in physiology at Seoul National University. He individually researched computer antivirus software programs while at Seoul National University Hospital and Dankook University Hospital, and founded venture after resigning from his medical duties. Later AhnLab Inc became the largest computer security company in South Korea, and has been included in recent annual lists of the Korea's most admired companies by Korea Management Association Consultants (KMCA).
In early September 2011, speculation spread that Ahn would enter politics by competing in the October 26 Seoul mayoral by-election. Analysts say that if positioned as an independent, Ahn would attract a degree of support from those disaffected by mainstream political parties in the wake of corruption allegations and continuing policy failures. As a medical doctor, professor, self-taught computer entrepreneur, and corporate leader, Ahn is representative of everything mainstream Korea dreams of becoming.  Ahn's political motivation is very similar to Roh Moo-hyun-led populism in 2002. He alluded to becoming the nominee for the president via his book 'Thought of Ahn Cheol-Soo'.
On September 19, 2012 at 3pm KST, Ahn held a press conference and announced his intention to run for the 2012 Presidential election. This announcement came after months of speculation on whether or not Ahn was going to run for the presidency. The South Korean presidential election will be held on December 19, 2012. In the address that lasted around 20 minutes, Ahn spent a considerable amount of time on how he came to the decision to run for the president of the Republic of Korea, quoting the people that he met during the time of discernment for the presidency that expressed their strong urge for the "new politics".
Moon Jae In
Moon Jae-in is a South Korean lawyer and the former chief of staff to late President Roh Mu-hyun. On September 16, 2012, Moon was elected as the Democratic United Party's candidate for the 2012 presidential elections after winning a majority in the party primaries.
Born in Geoje, South Korea, Moon Jae-in was the first son. His father was a refugee from North Korea that fled his native city of Hamhung during the Hanghung Retreat. His father settled in Geoje as a laborer for Geoje POW Camp. He attended Gyoungnam High School, considered among the most prestigious school outside Seoul. He enrolled to Kyunghee University majoring in law. He was arrested and expelled from the university when he organized a student protest against Yushin Constitution. Later, he was forcibly conscripted to the military and recruited to the Special Forces where he participated in a military mission during the Axe murder incident. After discharge, he passed the Bar Exam and was admitted to the Judicial Research and Training Institute. He graduated second in the institute and despite his superb academic record he was not admitted to become a judge due to his student protests. He chose to become a lawyer instead.
Despite his earlier indifference to politics, he changed his reluctance and began to get involved in the politics. He published a memoir called "The Destiny of Moon Jae-in" which became a bestseller. His popularity has been rising steadily. In the February 2012 Poll, Moon gained parity with Park in popularity. Moon managed to capitalize on the conservatives' decline in popularity amid a series of corruption scandals as one pundit said "Moon had managed to portray himself as a moderate and rational leader who has the backing of the younger generation". In early 2012, Moon entered a bid for a seat at National Assembly and has been campaigning in western Busan.
Park Geun Hye
Park Geunhye is a South Korean politician. She was the chairwoman of the conservative Grand National Party (GNP) between 2004 and 2006 and between 2011 and 2012 (the GNP changed its name to "Saenuri Party" in February 2012). Park is a member of the Korean National Assembly who had served four consecutive parliamentary terms as a constituency representative between 1998 and 2012, and started her fifth term as a proportional representative from June 2012. Her father was Park Chung-hee, president of South Korea from 1963 to 1979.
Park was elected a Grand National Party (GNP) assemblywoman for Dalseong, Daegu in 1998 by election, and elected three more times in the same electoral district between 1998 and 2008, being the incumbent assemblywoman till April 2012. In 2012, Park announced that she would not run for a constituency representative seat for the 19th election in Dalseong or anywhere else, but for a proportional representative position for the Saenuri Party instead, in order to lead the party's election campaign. She was elected as a proportional representative in the April 2012 election.
Park hoped to emulate her father's success by becoming the presidential nominee of the Grand National Party. She eventually lost to Lee Myung-bak by a narrow margin. Lee had a commanding lead at the beginning of the primary season, but Park was able to narrow the gap through allegations of Lee's corruption. Park won the "party member's bid", but she lost the "national bid" which is a larger percentage of the total presidential bid.
Park has been the leading candidate for the 2012 presidential election in every national-level poll in South Korea between 2008, when Lee Myung-bak administration began, and September 2011. Park's approval rating was highest when 2008 National Assembly election showed her strong influence and lowest in early 2010 as a result of her political stance against Lee administration in Sejong City issue.
On July 10, Park formally announced her 2012 presidential bid at the Time Square, Yeongdeungpo-gu, Seoul. In this event she emphasized the right to pursue happiness, democratic economy, and customized welfare services for Korean people.