Bang is a romanization of the Korean word 방, meaning 'room'. In a traditional Korean house, a sarangbang (Hangul: 사랑방; Hanja: 舍廊房) is the man's study or drawing room, for example.
In modern Korea (especially in the South), the concept of a bang has expanded and diversified from being merely a walled segment in a domestic space, to including buildings or enterprises in commercial, urban, space, such as a PC bang (an internet café), a noraebang (a karaoke room), sojubang (a soju room, i.e. a pub), manwhabang ("manwha room", where people read or borrow manwha) and a jjimjilbang (elaborate Korean public bathhouse). This can be compared with the similar expansion of the concept of a 'house' to include upper houses, opera houses, coffee houses, and publishing houses. Below are a few of the most popular:
PC-bang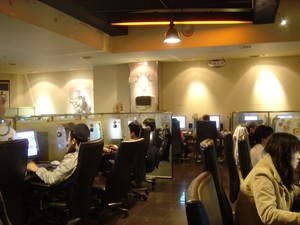 A PC bang (Korean: PC방; literally "PC room") is a type of LAN gaming center, where patrons can play multiplayer computer games for an hourly fee. The typical cost for an hour of play ranges from 500 to 1500 won (approximately $0.44 to $1.32 USD.), with 1000 won per hour being the most common cost. Although the per capita penetration of computers and broadband internet access is very high in South Korea, PC bangs remain popular as they provide a social meeting place for gamers (especially school-aged gamers) to play together with their peers. Furthermore, the computer hardware used by PC bangs may be more powerful than the systems available in the players' homes. Most PC bangs allow players to eat, drink and smoke (often with separate smoking and non-smoking sections) while they play. It is common for PC bangs to sell ramen noodles, canned coffee, soft drinks, and other snacks.
PC bangs rose to popularity following the release of the PC game StarCraft in 1998. In 1997, there were only around 100 PC bangs in South Korea but by 2002 this number has increased rapidly to around 25,000. Although PC bangs are used by all ages and genders, they are most popular with male gamers in their teens and twenties.
Many popular Korean multiplayer games provide players with incentives which encourage them to play from a PC bang. For example, the Nexon games Kart Rider and BnB reward players with bonus "Lucci" — the games' virtual currencies — when they log on from a PC bang.
Noraebang
These "singing rooms" are all over the country, even outside national park entrances, and are wildly popular with people of all ages; if you have any Korean friends, they're bound to invite you to one before long, as noraebang are usually sam-cha in a Korean night out – the "third step" after meal and drinks. The system is different from what Westerners usually expect of a karaoke room – you don't sing in front of a crowd, but in a small room with your friends, where you'll find sofas, a television, books full of songs to choose from and a couple of maracas or tambourines to play. Foreigners are usually intimidated at first, but after a few drinks it can be tough to get the microphone out of people's hands. Figure on around W15,000 per hour between a group.
Jjimjilbang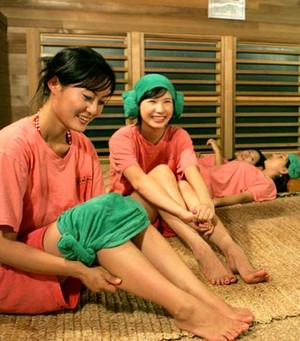 A Jjimjilbang (찜질방) is a large, gender-segregated public bathhouse in Korea, furnished with hot tubs, showers, Korean traditional kiln saunas and massage tables. Jjimjil is derived from the words meaning heated bath. However, in other areas of the building or on other floors there are unisex areas, usually with a snack bar, ondol-heated floor for lounging and sleeping, wide-screen TVs, exercise rooms, ice rooms, heated salt rooms, PC bang, noraebang, and sleeping quarters with either bunk beds or sleeping mats. Many of the sleeping rooms can have themes or elements to them. Usually Jjimjilbangs will have various rooms with different temperatures to suit guests' preferred relaxing temperatures. The walls are decorated with different woods, minerals, crystals, stones, and metals. This is to make the ambient mood and smell more natural. Often the elements used have traditional Korean medicinal purposes in the various rooms.
Most jjimjilbangs are open 24 hours and are a popular weekend getaway for Korean families. During the week, many hardworking Korean men, whose families live out of the city for cost savings, stay in Jjimjilbangs overnight after working or drinking with co-workers late into the night; the cost is 6,000-10,000 Korean won to enter, and one can sleep overnight, enjoy the bathhouse and sauna, and wake up fresh and ready to travel the next morning. Jjimjilbangs are also popular with Korean women, and traditionally, Korean mothers used to take care of themselves in rooms made of loess (called "Yellow Mud" in Korean) for three weeks before giving birth.
Orientation
Jjimjilbang usually operate 24 hours a day. In front of the entrance, there are the doors titled "men" or "women" and shoes are to be stored using a given key. Once inside, the shoe locker key is to be exchanged with another locker key to store clothes and belongings. Afterwards bathers walk into the gender-segregated bathhouse area and take a shower. Then, it is supposed to be dressed in jjimjilbang clothes (usually a T-shirt and shorts) received with the locker key.
 In a bathing area, there are different kind of kiln saunas with a varying themes including a jade kiln, a salt kiln, a mineral kiln: the dome-shaped inside walls of klin rooms are plastered with jade powder, salt and mineral respectively. and a series of kiln with different temperatures ranging from 60 to 100 degrees Celsius. The temperature sign outside the kiln is given before the entrance.
Jjimjibang Culture-Sheep Head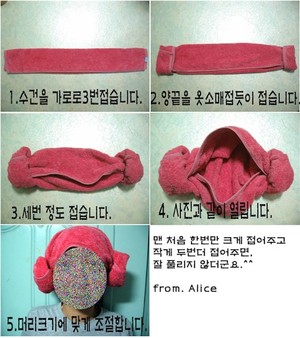 It is common that people in Korea wear sheep-shape towel in Jjimjibang. Steps of Making "Sheep Head":
1. Fold towel length-ways 3 times
2. Fold the ends over themselves until secure
3. Turn over and find opening
4. Pull opening apart till head sized
5. Place on head
Others
DVD-bang
Imagine a small room with wipe-clean sofas, tissue paper on hand and a large television for movies – if it sounds a little sleazy, you'd be absolutely right. Though people do occasionally come to appreciate plot, cinematography or Oscar-winning performances, these places are more often used by couples looking for a cheap bit of privacy – going in by yourself, or with a person of the same sex would draw some baffled looks. Figure on around W11,000 per movie..
Game-bang
Filled with all manner of board-games, these rooms underwent a surge in popularity just after the turn of the millennium – a strange development, considering the country's love for digital forms of entertainment – but don't see many foreign guests. Note that they're not really for kids, being café-style places better suited to young couples.