Korea is starting to really embrace the idea of flea markets and second hand shops for gently used clothing and accessories. If you are looking for larger sizes or are in search of clothing with a more individualistic style, it's recommended that you do some treasure hunting at one of the more popular weekend markets or shops. At first, it's easy to be overwhelmed by all of the choices, but it's worth a look and you may just find a diamond among all of the stones. Another plus to shopping second hand is that it's incredibly cost-efficient. You can find the same leather jacket at a flea market for around 10,000 won ($9) that you would pay close to $100-150 for in a department store or boutique! Sizes are also very diverse and you can find both US and European sizes for most of the clothing being sold. Brand names are also mixed in with the non-branded items. High quality bags, shoes, jackets, sweaters, dresses, jewelery, etc. You can find it all at your local flea market or second hand shop.
Hongdae Free Market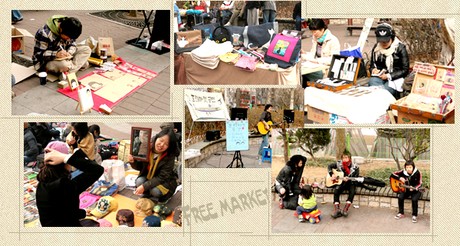 The Hongdae Free Market opens at 1pm every Saturday from March to November. Instead of used goods, you will find a variety of items handcrafted by college-age artists. The collection is quite extensive, ranging from hair ornaments crafted in Korean traditional needlework, to bags and hats with original, hand-drawn designs, shoes and diaries, and even music CDs just produced in a recording studio. You will also find portrait artists who will draw your caricature as well as impromptu musical performers. This place is vibrant with numerous things to see that are a pleasure just to see.
Artists who have registered with the Hongdae Free Market administration are permitted set up a stand or sell goods at the market. The ambience is much different from other markets, where you will find many unique, handmade crafts. If you want to see some young talent and passion, visit the Hongdae Free Market on a Saturday afternoon.
Seocho Saturday Flea Market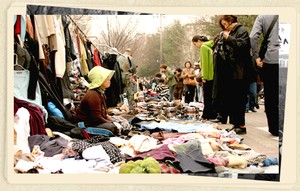 The Seocho Saturday Flea Market is located at the Bangbae-dong area in front of Sadang Station, Subway Line 2 & 4. It is one of the largest flea markets in Korea and sells all types of used goods except for food.
The market has clothing and accessories such as 500-won bags and 1,000-won T-shirts as well as electronic goods, antiques, and everyday goods. When buying an electric product, make sure to check the equipment before finalizing your purchase. The Seocho Saturday Flea Market is huge with thousands of participants, but there is no food on sale. To get something to eat, visit Yangjae's market (across from the Seocho market) or Gangnam. Occasionally, simple snacks such as thick azuki bean soup and gimbap are sold at the flea market.
Gwanghwamun Flea Market
The Gwanghwamun Flea Market is on the way to Gyeongbokgung Palace. It is small but charming. The market hasn't gained a lot of popularity yet, but when the weather is nice, there are many venders and visitors. The flea market is an interesting place to stop by when you are visiting palaces or other tourist sites in the area. The market is opened from 11 a.m. until 4 p.m. every Saturday. If you have anything to sell, you can register on site and pay a participation fee of 2,000 won.
There are many great places to visit in Gwanghwamun, all within walking distance: The Ubiquitous Dream Hall in front of the Gwanghwamun subway station, as well as Cheonggyecheon Stream or the galleries in Insa-dong and Samcheong-dong. Across from Simin Yulinmadang, where the flea market is located, are Gyeongbokgung Palace and the National Palace Museum of Korea. It is a convenient and worthwhile to combine Insa-dong, Gyeongbokgung Palace, Samcheong-dong, and Cheonggyecheon in one trip. Picture taking is prohibited on the way from Gwanghwamun station to Yulinmadang because the U.S. Embassy is located in between.
Philippine Market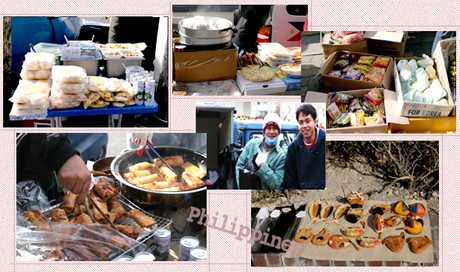 Every Sunday, Filipinos gather in a market in Hyehwa-dong to meet and chat with friends. The market sells groceries from the Philippines as well as magazines, and CDs, drawing both Filipinos and Korean clients. This flea market is especially unique in that it offers a rare opportunity to experience the local culture of the Philippines. If you want to experience Philippine culture in Seoul, visit Hyehwa-dong's Philippine Market from 12 p.m. to 6 p.m. on Sundays.
While the main sales are groceries, the market also offers foods made on the spot, pojangmacha foods, ramyeon, and snacks. The prices are relatively low: a banana fritter wrapped in thin dough is 1,000 won and 3 mangos cost 5,000 won. If you want to try the cuisine of the Philippines, be sure to visit the market with an empty stomach.