Tteok is a class of Korean rice cakes made with glutinous rice flour (also known as sweet rice or chapssal), by steaming. Normal rice flour can be used for some kinds of tteok. There are hundreds of different kinds of tteok eaten year round. In Korea it is customary to eat tteok guk (tteok soup) on New Year's Day and sweet tteok at weddings and on birthdays. It is often considered a celebratory food and can range from rather elaborate versions with nuts and fruits down to the plain-flavored tteok used in home cooking. Some common ingredients for many kinds of tteok are mung bean, red bean, and sweet red bean paste, Korean mugwort, jujube and other dried fruits, sesame seeds and oil, sugar, and pine nuts.
Types
Tteok is largely divided into four categories, such as "steamed tteok", "pounded tteok", "boiled tteok" and "pan-fried tteok". The steamed tteok is made by steaming rice or glutinous rice flour in "siru" (시루), or a large earthenware steamer, so it is often called "sirutteok". It is regarded as the basic and oldest form of tteok. The pounded tteok is made by using a pounding board or mortar after steamed first. In making pan-fried tteok, the rice dough is flattened like a pancake and pan-fried with vegetable oil. The shaped tteok are made by kneading a dough with hot water which is usually shaped into balls.
 Steamed tteok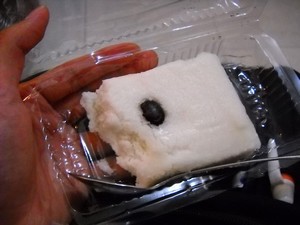 The main ingredients for steamed tteok or "sirutteok" are rice or glutinous rice and sometimes they are mixed together. In some cases, other grains, beans (azuki beans or mung beans), sesame seeds, wheat flour, or starch can be mixed with the rice. Various fruits and nuts are used as subsidiary ingredients, such as persimmons, peaches or apricots, chestnuts, walnuts, and pine nuts. In addition, vegetables with flavors or herbs can be used to flavor the tteok. Danggwi leaves (Ostericum grosseserratum), seogi mushroom (manna lichen), daikon, artemisia, pepper, and cheongju are the most common flavorings, and honey and sugar are used as sweeteners.
Baekseolgi is a kind of rice cake (tteok) made of rice flour dough. It is originated in Korea and a prime part of Korean culture. A Baekseolgi contains rice flour, sugar, and salt. It is usually eaten on the special occasions among Korean people, for example on the 21st birthday of a member of the family or on the 100th day of the death. The cakes are colored white, a colour that symbolizes purity and holiness. Because of the special occasions they are eaten, the cakes are never shared with neighbors or friends, but only with family members.
Pounded tteok
In the traditional preparation, pounded tteok is made by pounding rice or glutinous rice with utensils called jeolgu and jeolgutgongi or tteokme and anban. Injeolmi, garaetteok, jeolpyeon and danja are commonly eaten pounded tteok.
.Injeolmi is a variety of tteok, or Korean rice cake, made by steaming and pounding glutinous rice flour, which is shaped into small pieces and usually covered with steamed powdered dried beans or other ingredients.