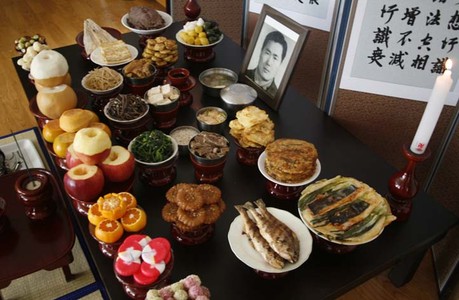 Jesa is a ceremony commonly practiced in Korea. Jesa functions as a memorial to the ancestors of the participants. Jesa are usually held on the anniversary of the ancestor's death.
Kinds of ancestor rituals
There are several kinds of ancestor rituals such as gijesa (기제사), charye (차례), seongmyo (성묘), myosa (묘사). Gijesa is a memorial service which is held on the day of the ancestor's death every year. Gijesa is performed until upwards of four generations of ancestors in the eldest descendant's house. Memorial services that are performed on Chuseok or New Year's Day are called "charye," On April 5th and before Chuseok, Koreans visit the tombs of their ancestors and cut the grass off the tombs. Then, they offer food, fruits, and wine, and finally make bows in front of the tombs. Memorial services that are performed in front of tombs are called "seongmyo". Finally Myosa are performed at the tomb site in the lunar month of October to conduct in memory of old ancestors (five or more generations).
Performance
To perform ancestor rituals, the family at the eldest son's house prepare many kinds of food such as wine, taro soup, beef, fish, three different colored vegetables, many kinds of fruits, and rice cake or songpyon.
After midnight or in the evening the descendants set the shrine and in front of the shrine they set up written prayer. Several ritual greetings (kangshin) then follow. The first entails an offering of rice wine; a designed attendant then, recite a written prayer. At the conclusion of the first ritual offering, the eldest son would show his respects by performing a ritual bow twice. Then these things are followed by next eldest sons, sons-in law. When all the ritual offerings are made, all the attendants at the ceremony bow twice and the spirits are sent off until the next year. The table with the food and wine offerings is then cleared and the written prayer recited earlier on during the ceremony is set a fire.
Once all of these steps are completed, the feasting of the food and wine (or umbok) by the family members follows. Consuming the ritual food and wine is considered to be an integral part of the ceremony, as it symbolizes the receiving of the blessings bestowed upon the family.
Modern ancestor rituals
Ancestor worship has changed much in recent years. These days it is common to hold ancestor rituals up to only two generations of ancestors, and in some cases, people only hold rituals for their dead parents. In addition, more people are holding rituals in the evening, not after midnight. People can also perform ancestor rituals in a younger son's house.
Today, in most Korean families, ancestor rituals still remain an important part of their culture and they are faithfully observed. These ancestor rituals, in spite of revised form, continue to play an important part in modern Korean society, which testifies to their inherent importance in the lives of Koreans.
http://en.wikipedia.org/wiki/Jesa